have you ever had a day where you just needed a humongous one of these?
FYI.. that's an iced mocha. My favorite coffee drink. I have my own espresso machine and sometimes I'll make an iced mocha with about four shots in it. Oh my heavens! Today is a big iced mocha day. I need caffeine. Is it a bad thing to
need
caffeine?? I mean.. there could be worse things in life, right?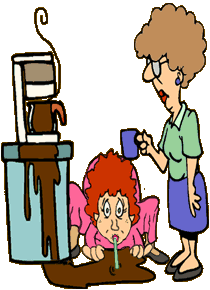 I mean.. I don't see anything wrong with that picture.... do you????
So here's the deal... all these funny little cartoons I'm finding keep bringing up "not sleeping" and "being restless" but I can sleep. I can have an iced mocha an hour before going to bed and have absolutely no problem gettin' my snooze on when the head hits the pillow.
Everyone I talk to thinks that's strange. Well. That's probably true.
At any rate... today is a BIG coffee day and that's all there is to it! Happy Friday everyone! Hope you find time to be creative this weekend. :)
hugs,