Jillibean Soup that is!! Sketch Support is being sponsored by Jilli this month and each of the CT members got a lovely little pack of goodies to play with. Fun, right?? Who wouldn't pass up some yummy Pasta Fagioli!
This week the team used the current card sketch and used ONLY the product that was received. I love this type of challenge because it forces me to think about ways to creatively use my stash. While we were to use the JB product, I caught myself thinking, "Hey, I can do this with some of my other stuff too.. that stuff that's just sitting around. I can create my own embellishments and such." Also... less is a lot of the times more. While I admire all the beautiful layerings of some projects, I find I'm much more drawn to clean and graphic.
Enough chatter! Here is the card I made. Click
HERE
to head over to Sketch Support and see what the rest of the team did. We've got a challenge for you too!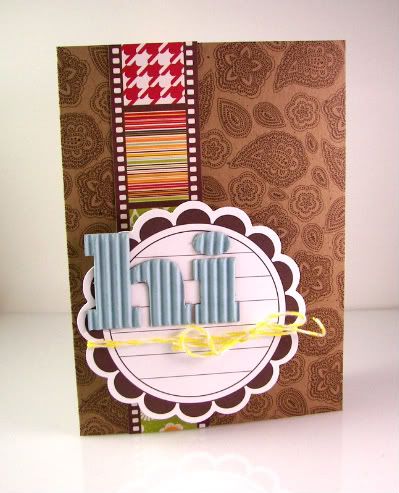 All Supplies from Jillibean Soup.
I don't think my card is anything groundbreaking other than using some adorable product and using a fun sketch!
Hope you have a great weekend! Any fun plans? I'm attending an Early Childhood conference tomorrow and scrapbooking tonight. Then, watching the Superbowl on Sunday. Busy weekend!!!
Hugs,
Melissa