Hi everyone,
This post is part of Lysa TerKeurst's "The Best Yes" Blog Tour which I am delighted to be part of along with many other inspiring bloggers. To learn more and join us,
CLICK HERE
.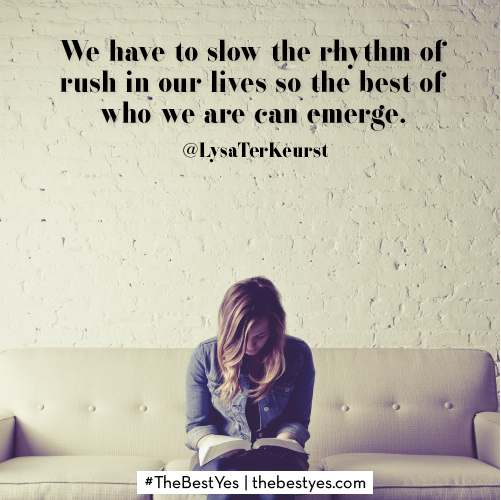 About a week ago, I joined a five day challenge via the
Proverbs 31
Ministries site that had me taking a good hard look at what the phrase "saying the best yes" means. I'm not one who says yes to too many things. I'm not one who wants to take on the world. But, I know that I rush things. When I get a dream or vision, I want things to hurry up so that it will be accomplished.
What happens when I do that?
I miss things.
I miss special moments.
I neglect important relationships.
I forget.
I don't give my all.
I lose site of WHY I had the vision in the first place.
This challenge was one I soaked in. It came right on the heels of another cross country move. This time, I moved back to my hometown. And I came home with new eyes. My heart was coming down from the big city life adrenaline it had gotten so use to. My body, mind and soul, were remembering a simpler way to live. And to take notice of all that was in my life NOW. Not to rush time.
I've gotten to have little glimpses of the book The Best Yes and it's quotes like these that really drive the truth home:
It's not the activities or accomplishments we string together that make lives well lived as much as it is the hearts of wisdom we gain and use along the way.
Ah. SO true, right? Can you relate? My personality is one that defaults to feeling the need to fill up my calendar. Scheduling coffee time with friends, going to the movies, concerts, dinner parties, a date, bible studies, workshops.... on and on and on and on. It's not so much me wanting to take on everything but, wanting to rush through it to move on to the next. Because I get so excited.
And then a voice, not audible mind you, but a voice nonetheless whispers in my ear: stop.
"Okay", I say. Yes... that's right. Be still and know that I am God. I feel that God likes to remind me to enjoy the scenery. To take time to use words and tell people how valuable they are to me. To quit thinking about how quickly it will take to get from point A to point B and start using those minutes to listen to Him. What has He got to tell me today? What does He want me to see?
Be still also means, to me, to just be quiet. Even with friends. We tend to want to fill the silence with chatter.
It's okay to sit quietly. Those moments are good. Savor the friendship and moment you have with them! Enjoy the peace.
Easier said than done, right?
It definitely is a learned practice and I'm still learning. I catch myself rushing and not paying attention. But the reaction of stopping comes much quicker these days. I get about two seconds ahead of myself and that "voice" happens again... stop. Slow down. Okay.
So while my take isn't so much on setting boundaries, which is always good, it's been remembering to slow down. Savor the small moments in life. The eye contact. The car rides. The text messages. Savor all of it because it matters.
Here is a journaling page I created that essentially documents how this journey is impacting me.
For my artsy, scrapbooking, art journaling followers
- you'll notice lots of hearts for symbolism. I used mostly product from the Capture Life collection by
Allison Kreft
for Echo Park Paper Co. I purposefully placed the chevrons in the same direction as my gaze. The anchor is a great symbolic icon to remind me to stop and rest.
Thank you for visiting my humble blog.
If you are a regular follower, thank you.
If you are here because of the blog tour, welcome! I hope that you take some time to look around and, if this is a place that inspires you, stick around. I'm a creative woman who loves using scrapbooking and art materials to express her heart. Scrapbooking IS an art form and it can be used for more than documenting heritage and events. :)
Now... back to the book...
New York Times
Bestselling author Lysa TerKeurst has written a new book about finding your Best Yes. Many call this book "inspiring" and "fabulous." I call it a game-changer. You can grab a copy at
http://goo.gl/ZFUZbD
AND... I can't keep it to myself. I'm giving away a copy of her book too! You have until August 29th to leave me a comment on this post.
I'll announce the winner on the 30th via all my social media venues. (That includes my blog but, you are more than welcome to join me in all my other places via the buttons on the top right of my blog.)
I am looking forward to this Fall, as a group of us local women will be gathering and reading through the book together. Such perfect timing as the new school year and holidays begin. It's so easy to be rushed and say yes to everything. But, I truly believe beginning the year this way will help set the tone and remind us about The Best Yes.
Have a wonderful day!